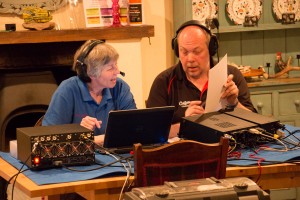 It's nearly the end of the week for us, and almost everything is now packed away – just leaving a single station on 40m for this evening.
We hit the magic 10,000 QSO mark earlier this afternoon after a bit of a race between myself (M0VFC) and Martin G3ZAY on 20m and 17m CW, matching each other almost QSO-for-QSO. We eventually called a truce at 1,850 QSOs each. However, Steve M1ACB holds first place with 2,235 QSOs – clearly keen to keep his hands on the fluffy sheep that rewards the operator making the most contacts in the week!
Thanks to everyone who called us over the week. We've had a fantastic time, and hopefully you've enjoyed working us as well, whether on one band or many.
Congratulations to F5IAE for working us on seven bands: 6m, 15m, 17m, 20m, 30m, 40m and 80m. Managing six bands were: PE1RLF, SP9FKQ, VO1SA and OK2PAY.
Tomorrow morning we start the journey back to JO02 square, where we can all start rebuilding our respective shacks, having emptied them for this week!